Executive Summary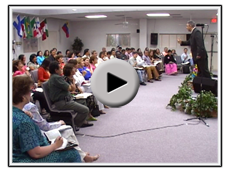 THE CHALLENGE
The Great Commission was a challenge given to us by Christ in Matthew 28: "Go into all the world and make disciples . . . proclaiming the Gospel to all people. . ." and has been the marching order of Christians for over 2,000 years.
In the past, the traditional missionary model used to fulfill this Great Commission involved years of training before relocating missionaries to foreign countries. Today, the model for effective mission work has changed.
"Nationals" have been found to be much more effective and the financial investment in training them is far more productive and practical.
Millions of people reside in countries where traditional foreign missionary work is becoming impractical, dangerous, discouraged or prohibited.
The world has changed greatly in the last century and the paradigm of missions has changed and must move with God to be powerfully effective.
MEETING THE CHALLENGE
Tell My People (TMP) was established in 1976 as a non-profit non-denominational international organization focusing on strengthening the body of Christ by communicating the life-transforming reality of God's great love and unending grace through the Gospel of Jesus Christ.
TMP has developed an alternative to traditional missions by providing a more immediate solution to strengthening and equipping Christian national leaders. For more than 30 years, God has led this ministry to meet the challenge by reaching nations through powerful leadership programs, media and foreign ministry:
TMP Leadership Training International
In 1988, God led TMP founders and board to establish its non-denominational, short-term training program based on Biblical principles, focusing exclusively on strengthening and equipping Spanish-speaking Christian leaders from over 25 nations to successfully transform their ministries, communities and nations. This unique program provides the training needed for Christian leaders to enter into a new realm of understanding the love of God and His great completed work by providing a separated time frame of intense leadership training. This specialized type of leadership development has proven to be a revolutionary force in the challenge to spread the Word of God worldwide by placing emphasis on:
advancing the ability of qualified Christian leaders to reach their own people of their own language and culture resulting in effective multiplication.
offering short-term, intense biblically-based training in a separate, special environment focusing on God and the integrity of His word, as well as personal character development.
providing a "leaders teaching leaders" format: TMP instructors of integrity share their biblical and experiential wisdom along with culturally relevant training.
Media
TMP is reaching the nations through the internet in various ways. Our website offers a wealth of information, as well as online applications for prospective students. The increasing use of social networking also provides TMP with opportunities to expand our reach and into cyberspace. Our media programs seek to make the most of this new world of communication.
Foreign Ministry
Since its inception, TMP has ministered in churches, seminars and conferences in Africa, Central & South America, and Mexico. TMP conferences in many Latin American countries have had from 300 to 2,000 in attendance, all with the purpose of:
actively participating in foreign ministry, which is a vital part of TMP's goal of strengthening the body of Christ.
assisting TMP graduates in developing discipleship and leaders training programs in their own countries.
BECOME A PARTNER
TMP is uniquely positioned to be your partner in meeting the challenge to "go into all the world and make disciples". Our ability to do this is provided by generous partners who invest in the lives of God's leaders worldwide. We have linked arms with Christian leaders from over 25 nations by training them for greater multiplication – an eternal investment without precedence.