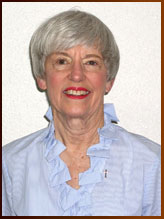 Dorothy "Mac" Pogue
Educator
Kenedy, Texas
Native to Texas, Dorothy graduated Cum Laude from Texas A&I University (now Texas A&M Kingsville). She holds a Bachelor of Science degree in Home Economics and Education. For her outstanding work as an educator, she was named multiple times in "Who's Who Among American Teachers".
A retired educator for 38 years with a distinguished career, Dorothy Pogue was a certified Gifted and Talented Instructor who taught homemaking and coached winning girls' basketball teams, as well as acting as a 5th grade home room teacher and teaching "at risk" students. She continues teaching by sharing in weekly bible studies for inmates in local prisons.
Her relationship with Tell My People began when she met Helen Lynch in the early 1980's. Her resulting involvement with TMP provided an opportunity to be a part of biblical truth that is instilled into the lives and ministries of TMP graduates around the world. Dorothy finds great joy in knowing that monthly giving plus supporting the Scholarship Fund contributes to the exponential increase of souls being brought into the Kingdom of God.
Lacy and Dorothy Pogue have been married 55 years and he joined with her in supporting TMP over the many years. Dorothy feels that receiving and sharing the love of God is above everything in her life.