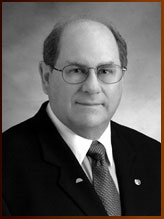 Ronnie P. Wright, 2nd Vice President
R. Wright Insurance Agency
Sugar Land, Texas
Ronald P. Wright, AAI, LUTCF, was born in Houston, Texas. He established his insurance agency at age 22. His motto has always been "Here to Serve," and he has been serving Texans' insurance needs for 37 years.
His favorite endeavor is participating in short-term missions and he has made numerous mission trips to Africa, Costa Rica, China, and Mexico. A life-long sportsman, Ronnie enjoys fishing the Texas and Mississippi coasts and hunting in Texas and Mexico.
Ronnie and wife, Susan, have been married for 32 years. Together, they have been supporters of Tell My People ministries for over 20 years. Sharing about Tell My People with others brings great joy and fulfillment to their lives.
Ronnie says, "Visiting with TMP alumni is an extremely rewarding part of serving at Tell My People. To hear how these newly energized evangelical leaders have put the knowledge they have learned from their Tell My People training to work is amazing. Through our long and fulfilling association with TMP, we have had the opportunity to personally witness God's Hand at work around the world, multiplying the teaching of this great ministry."